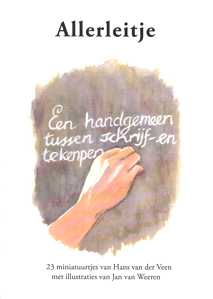 Hans schreef een kleine familiekroniek met een aantal korte verhaaltjes, door hem miniatuurtjes genoemd, en zijn oud-studiegenoot Jan van Weeren zorgde voor een paar passende illustraties. 
Onderstaand een voorbeeldtekst uit deze uitgave:
Koken kon mijn moeder voor geen meter. Ze had niets met koken of met eten. In de laatste jaren van haar weduwebestaan at ze van een krant. Waar ze ook niets mee had. Haar leven lang at ze met lange tanden. Zelden genoot ze van wat zij zelf of een vreemde keuken opdiste. Maar je hoorde altijd onder het eten "Lekker, hè jongen?", alsof zij ook zichzelf moed insprak.
Het kruidenrek van mijn moeder was sober: zout voor de aardappelen, peper voor de hachee, mosterd voor de tuinbonen, nootmuskaat voor de bloemkoolsaus. Later werd het uitgebreid met paprika. Misschien zag het kruidenbestand in heel Nederland er in de jaren vijftig zo uit.
" Exotisch" voedsel was aan mijn moeder niet besteed. Eenmaal at ze dapper een mossel van mijn vork. "U moet uw ogen sluiten, ma!" Maar dat kon ze alleen goed voor de minder vrolijke dingen die er in haar leven gebeurden. Die verteerde ze zwijgend…
Ze was een echte binnenvetter, net als haar man en kinderen. Bij haar soepen was dat anders. Grote vetogen keken je vanuit de pan glanzend aan. Al haar soepen zagen er hetzelfde uit en smaakten ook zo, behalve de erwtensoep. Die vind je zo niet meer. Soms meende ik even bij een 'koek-en-zopie' op het ijs mijn moeders soep te ruiken, maar de smaak viel altijd tegen. En met de huidige vorstvrije winters is ook die geur verdwenen.
Hachee was mijn moeders tweede keukentalent. Ze deed maar wat, met veel ui, weinig vlees, en peper en zout. Maar het was altijd in de roos. O ja, laurierblaadjes dreven er ook in, die vergat ze er uit te halen.
Onze keuken rook naar aangebrande aardappelen – "Het kan nog net!" – of overgekookte melk. Er werd altijd overgekookt. In dat laatste bracht een aluminium anti-overkookkolom geen verandering. Maar wat was het gezellig na de maaltijd, met mijn moeder in de keuken. Pa achter de krant, de oudste jongens achter hun schoolboeken, zus sliep al. En ik hielp met afdrogen. Na het huiswerk van koken en eten kwam voor mijn moeder de ontspanning van afwassen en opruimen. Niets herinnerde meer aan de last van drie-maal-daags. Ik zong met mijn moeder psalmen, gezangen of schlagers, vertelde veel over school en weinig over mezelf, daarna gauw weer zingen. De pannen resoneerden vrolijk mee.
Je kwam het huis binnen via de keuken. Het deksel van de grote aardappelenpan wist mij bij terugkeer uit school soms vrolijk te stemmen. Als je de goede toon aansloeg, trilde er iets mee. Zo werd het toch nog gezellig in de puberteit.
Mijn moeder verwende zichzelf nooit. Ze had gevoel voor stijl, kleding en kleur bij anderen, maar bleef eenvoudig voor zichzelf. Toch was er het hoedje met het voile-rudiment: voor de kerk en officieel bezoek. Bakker, slager, groenteman en kruidenier kregen alleen haar hoofddoek te zien. Ja, in de jaren vijftig droegen moeders nog hoofddoeken, en niet alleen bij de voorjaarsuithaal en de herfstschoonmaak.
Trots was ze op haar man, drie zoons en dochter. Ze ging voor ons door het vuur. Sleepte op pantoffels de door buurtjongens gejatte kerstbomen weer terug en leverde, tegen beter weten in, de lucifers aan voor de oudjaarsfik. En altijd ruimde ze zonder morren onze rommel op, óók tegen beter weten in!
Zijn ze er nog, zulke moeders met hoofddoeken, kokette hoedjes, gebloemde schorten? En roze ondergoed, dat altijd met afgewend kruis aan de lijn werd opgehangen? Ik zie ze nooit meer, ze zijn voltooid verleden tijd, maar soms kun je er eventjes weemoedig aan terugdenken….
Hans van der Veen,
Leiden, 8 december 2008
(uit: Allerleitje, een handgemeen tussen schrijf- en tekenpen, Leiden 2008)